Paper producers for more than a century
Cartiera Confalone boasts a long tradition of high quality paper production on the Amalfi Coast.
Its history began in 1800, when a paper mill for the production of handmade paper was founded in Maiori, which would help the area become famous for the production of excellent paper along with other paper mills located around Amalfi, particularly in the Valle dei Mulini and along the course of the Canneto stream.
Over the last century, the development of Cartiera Confalone went through the production of flattened paper and crepe paper until its conversion to tissue paper in the 1960s.
Cartiera Confalone is a solid family business that looks to the future with confidence and to the development of quality products aimed at the consumer and professional sector.
Cartiera Confalone offers a wide selection of products which stand out for the selected raw materials, only virgin cellulose fibers, and the ability to preside over the entire market.
Toilet paper, kitchen towels, napkins and reels of different sizes to meet the needs of consumers looking for good quality products for daily use.
Cartiera Confalone's products are distributed in Italy, Germany, Eastern European countries and the Mediterranean area.
Values
Tradition
Experience and passion in high-quality paper production since 1800. Producing to perfection is for Cartiera Confalone a duty dictated by the desire to continue a glorious history to be passed on to future generations.
Respect
Cartiera Confalone brings forward an ethical industrial practice and develops fair relationships with customers and suppliers. We safeguard the people who work in the company and constantly follow their training. We progressively improve the degree of sustainability of the industrial process and the finished product.
Excellence
We constantly maintain the high-quality and innovation degree of our products for a continuous improvement that qualifies the company as a production reality with cutting-edge technology and gives value to our Customers and consumers choice.
Every day Cartiera Confalone has a goal: producing quality tissue to be offered to the market.
Cartiera Confalone has undertaken a path aimed at operational and technological excellence that today distinguishes the company in the panorama of Southern Italy for tissue production and converting.
Paper Mill
Cartiera Confalone improved its production capacity with the implementation of a new paper mill machine Toscotec AHEAD 2.2. A strategic investment that significantly raised the level of technology in Southern Italy for tissue production.
This paper mill machine is among the most advanced for tissue paper production thanks to its operational and manufacturing efficiency; it features innovative technologies that ensure improvements in the sustainability of the process and guarantee the achievement of premium quality while preserving the consistency and softness of the finished product.
The new paper mill machine is dedicated to the production of jumbo rolls intended for conversion into toilet paper, kitchen rolls and napkins.
Thanks to this new asset, Cartiera Confalone achieves an improvement in energy efficiency with a trigeneration plant for the joint production of electricity, heat and cooling and a gas hood plant with energy recovery, and also records lower consumption of fresh water due to the improved efficiency of process machines and a reduction in atmospheric emissions at every stage of production.
Year of implementation 2022
2022
TOSCOTEC AHEAD 2.2
Annual production capacity
35.000
tons
Maximum speed
2000
meters/minute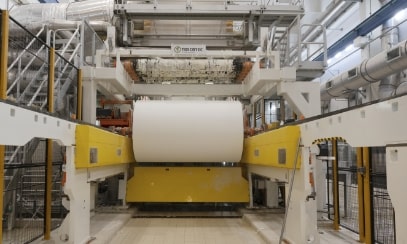 Converting
Integrated and automated production chain.
The converting process of jumbo rolls is carried out through technologically advanced lines that guarantee the excellent quality of the finished product. Cartiera Confalone has converting lines for the production of rolls (double-height toilet paper, kitchen rolls and industrial reels made with DESL and point-to-point) and one-ply, two-ply and two-ply point-to-point napkins.
The converting cycle in each step preserves the technical specifications of the paper, improves its performance with embossing and enhances the beauty of the roll with perfect cutting and winding.
In order to further increase its ability to develop innovative products for the market and optimize production times, Cartiera Confalone has recently introduced a new roll converting line that will feature a state-of-the-art flexible embosser with automatic roll change without machine downtime and a 4-colour printing system.
Maximum speed
2.000
meters/minute
Maximum production
4.400
tons/month
4
converting lines
NAPKINS
Maximum speed
3.850
meters/minute
Maximum production
165.000
crt/month
Logistics and Warehouse
Cartiera Confalone activated a technological facility for warehouse management which allows a cutting-edge logistics, totally automated.
It is a Smart store of latest generation, designed to meet pallet storage requirements as part of the automated logistics needed to ensure on-time deliveries to retailers.
The full stocks tracking makes it possible to organize production in relation to orders and to offer just-in-time delivery, with a very high degree of efficiency.
Pallet handling with robots also results in a reduced risk of package breakage, improved product hygiene and protects the safety of operators as the correct functioning of the machines is managed remotely.
The Smart store features an innovative fire prevention system based on oxygen depletion (rarefaction) and nitrogen insufflation that makes the ignition of open flames impossible.
Finished product
22.300
pallet
Certifications
The quality of the production chain of Cartiera Confalone is guaranteed by authoritative certifications.
Cartiera Confalone is an ethical company that respects the rules.
Cartiera Confalone obtained the Legality Rating with a score of 2+.
This certification is an innovative instrument established by the Italian Competition Authority (AGCM) in agreement with the Italian Ministry of the Interior and Ministry of Justice, aimed at companies that operate according to the principles of legality, transparency and social responsibility.
The score obtained testifies to the commitment and correctness of a company behavior in respecting the rules and in pursuing an ethical and responsible conduct.
A score higher than 2 demonstrates that Cartiera Confalone has additional requirements on a voluntary basis to carry out an ethical management of its business, as well as legal obligations.
Respect for legality and ethical behavior are the pillars on which Cartiera Confalone has always based its conduct: the company integrated in the local economic fabric is an economic player that generates wealth while enhances the region, offers work and increases general well-being respecting the rules.
Customers who choose to stock on their shelves Cartiera Confalone products and consumers who buy Vit and Class branded products know that they can rely on a serious and solid company.
The Legality Rating makes Cartiera Confalone proud because it represents the result of a long process of collecting and presenting the documents required for the assessment. It is also the fulfillment of a growth path that began in 1800 with the foundation of the first paper mill and continues today in the name of transparency, honesty and in the achievement of the best quality tissue paper production.